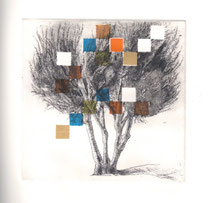 So, I connected with the print studio at Long Beach City College in the Fall of 2012 to get (re)acquainted with printmaking (specifically intaglio) which I explored a million years ago while earning my MFA at CSULB. The print teacher at LBCC was Annie Stromquist an excellent printmaker and old acquaintance from college. I quickly became obsessed with the never-ending techniques that needed exploring and the prints began piling up. Annie retired and Tyler Ferreira (another CSULB grad) came and brought with him another set of ideas and techniques that I am eager to try out. 
The process of chine colle (gluing pieces of thin decorative paper to the print while printing the image) has held my fascination for the past six weeks or so....I can't get enough of the flat, clean geometric shape in contrast to the organic descriptive intaglio line!
In the mean time I have been asked to teach life drawing at Cerritos College, which I'm looking forward to, but that class will conflict with my print studio time, so I am frantically trying to conclude this print series I've been obsessed with for the past 9 months or so. It has been such a joy to have had the opportunity to work creatively along side other artists (I usually hide out in my studio solo) and I have loved latching onto the student mentality of working feverishly, within a set period of time.
I have one more week with access to the LBCC print studio, I hope I make the most of it!