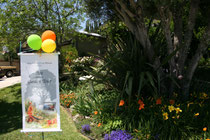 Oh my! It really gets in my blood. I knew it was coming and I knew I would have a busy season....I even dreaded it a bit....but one day, about a week ago, I woke up and the garden called! I've been a whirling dervish ever since: Picking weeds, amending soil, planting, trimming and, of course, drawing.
I will be hosting a garden wedding shower next week, and have been asked to participate in our town's Art and Garden Tour in May. I have also been teaching more and printmaking A LOT! I do so well when I am busy enough to keep me from over thinking too much (a common artist dilemma). My horoscope last week said something like: The greatest dancers don't look at their feet.
So I've been stuck on this olive tree thing for several months now and I can't seem to shake it. First I was just making the little 3 inch plates to experiment with technique. But, I have become increasingly fascinated by their various shapes and how that represents their history and their caretakers' gardening attitude. I realize it touches on a thought I had when I first moved to So Cal from the Bay Area. I had been used to this feeling that we lived amongst the trees, and many of the trees were there before the people were. In Southern California (LA Basin) virtually every tree has been planted by someone and (usually) shaped by someone. That takes our environment in a completely different direction (not sure where).
That relationship we have with the trees, how we try to control them...that is where my head is.