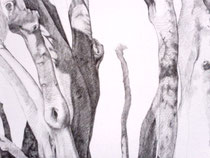 One of the last drawings I did for the Dialogue Squared show was a small ink drawing of the olive tree in our front yard. The drawing was about 7 inches square and I did it in one evening with a 005 micron on Bristol. That drawing got a lot of attention and seemed to do something more than simply represent the tree, it had something extra...but I can't figure out what it is.
The effort to understand what makes one drawing better than another (illusionism aside)is the eternal question I guess. In an effort to understand I decided to re-draw the olive tree but on a larger scale to see if it would yeild similar results. The desire to recreate the intensity of a small artwork on a larger scale is an old idea (Franz Klien, anyone?)but I gave it a shot: Same tree, same lighting, same materials...different size.
I have been playing with scale a lot in the past few years. The xeroxes that I've been making for the xerox transfers effectively enlarge the size of the drawing and the mark together, so this time I kept the mark the same size as on the small drawing (005) and just used larger paper (21").
Another difference between the olive tree and the flowers and leaves that I have been focusing on in the cross-hatch drawings is the use of negative space, which also implies depth and deeper space. The flat geometric shapes that I have added to some of the drawings definately add some depth by reaffirming the picture plane, but the negative shapes add depth by adding space... by implying air.
Still don't know what the hell I'm doing. In an effort to understand I created a stop action movie chronicling the development the the larger version of the olive tree, and am now drawing more trees.