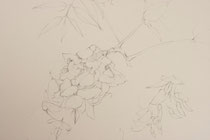 The Wisteria is blooming late this year (I think I confused it by pruning it at weird times.) It's such a complicated flower...but great to draw...such a combination of symmetrical order and chaos.
I went to see the Los Angeles Biennial (the portion that is at the Hammer Museum) an impressive collection of LA contemporary artists that runs across the spectrum (old/young, figurative/abstract, sculpture/painting/video. ) It's a great show.
I fell in love with the work of Channa Horowitz. She has been making these intricate drawings based on the grid format for forty years. I have always been drawn to artists that embody an obsessive quality...you believe that they would be making their work and it would look basically the same no matter what their life's circumstances were.
Channa's work uses the rigidity of the grid and what looks like detailed mathematical systems to create her stunningly beautiful drawings that have a feeling of controlled chaos.
I guess that's it: controlled chaos....beautiful controlled chaos.